Regular price

$29.00

$29.00

A set containing the award-winning Daily Wash in Violet Cotton and a handmade candle with the shape of a woman's body. Perfect to give as a gift or if you want to treat yourself to a relaxing moment before or after the shower. The gentle and mild intimate wash is developed by doctors and gynaecologists with pH 5 to maintain the natural flora of the vulva. Leaves a silky soft feeling. 

Developed by women doctors and gynecologists

Made in Sweden

The 

candle is handmade in Sweden from vegan candle wax and certified olive groves. Unscented.
SPECIFICATIONS

-Developed by women doctors and gynecologists

-Gynecologically and dermatologically tested

-Free from allergens, alcohol and parabens

-Made in Sweden

-100% vegan
How to use

Daily Wash: When showering, use desired amount of intimate soap and then rinse with water.

Candle: The candle can be used as a decoration or lit. Do not place the candle near any flammable materials, when lighting the candle place it on a plate to avoid wax dripping on furniture. Never leave a burning candle out of sight.
Ingredients

Daily Wash: Aqua, Sodium Laureth Sulfate, Glycerin, Parfum, Sodium Cocoamphoacetate, PEG-120 Methyl Glucose Dioleate, Polysorbate 20, Cocamidopropyl Betaine, Hydrogenated Starch Hydrolysate, Olive Oil PEG-7 Esters, Lactic Acid, Laureth-4, Sodium Levulinate, Shea Butter Ethyl Esters, Sodium Anisate, Beta Vulgaris (Beet) Root Extract, Hydrolyzed Corn Starch, Tocopherol, p-Anisic Acid

Candle: Olive candlewax, paraffin.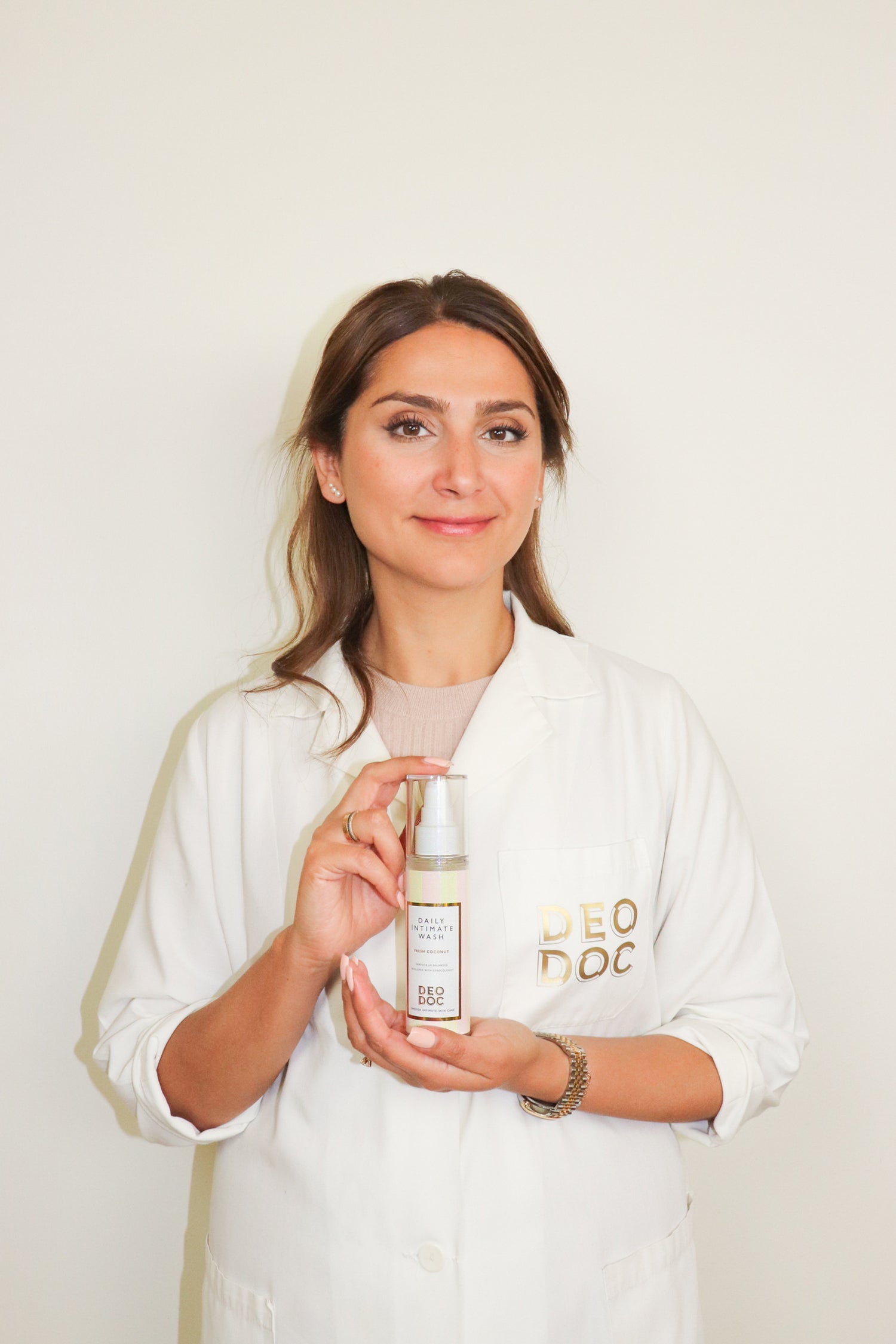 Doctor's Corner
"While the vagina is self-cleaning, the same does not apply for the vulva (the outer part of your intimate area), which is not self-cleansing. The vulva produces sweat, that together with urine easily can get trapped in the hair follicles. 
The intimate skin can not be treated like the rest of the skin on your body as it has such a delicate ecosystem that can easily be thrown out of balance. Any products used on the vulva should have a pH of 5 (as the vulva has pH 5). You should never wash with regular soap, body wash or gel, as these contain a higher pH level and non-hypoallergenic fragrance ingredients that are not correctly formulated for intimate skin. Products with a different pH level than the vulva can disrupt your vulva's natural pH, leading to irritation, discomfort and possibly infections."

-Dr. Hedieh Asadi, Medical Doctor
FAQs
WHY DO YOUR PRODUCTS CONTAIN PERFUME?

DeoDoc only uses hypoallergenic scents/perfumes in all of our products. Hypoallergenic scents are free from alcohol, allergens and irritants, therefore, they are safe for intimate skin.

Regular perfume should never be used in the intimate area as it contains:

- alcohol which can have a dehydrating effect

- allergens that can cause irritation
ARE DEODOC'S PRODUCTS VEGAN?
IS IT SUITABLE FOR SENSITIVE SKIN?

Yes, our revolutionary 3-step shaving solution gives the optimal preparation for sensitive skin.
ARE DEODOC'S PRODUCTS SAFE TO USE?

DeoDoc follows European Union regulations for the manufacturing of cosmetic products

- All products are approved by the Swedish Medical Products Agency

- DeoDoc ingredients and products fulfills the safety standards for area of use (i.e. Vulva-safe & vagina-safe dependent on product) according to EU regulations for cosmetic products

- Each product is gynaecologically tested which means they are tested on women outside of a lab environment

- Products are dermatologically tested for sensitive skin

- All of our products are developed together with DeoDoc's co-founder and Professor of Obstetrics and Gynecology, Dr. Gunvor Ekman Ordeberg